About Concrete Mystique Engraving
- Serving Nashville and surrounding areas -
Concrete Mystique, A Decorative Concrete Company
In 2003 Rick Lobdell moved to Nashville, Tennessee where he was introduced to the decorative concrete industry. Within 3 years he took over the company, Concrete Mystique Engraving, and started turning his new trade into an art form. Currently Rick is well known worldwide for his decorative concrete designs. He has had multiple articles in national magazines, a segment on Tennessee Crossroads and The Concrete Show, and was invited to demonstrate at the 2011, 2012, and 2014 World of Concrete Artistry in Concrete.  The team has won 16 national awards from the Decorative Concrete Council, 12 local awards through Greater Nashville House and Home including 1st place for Decorative Concrete in 2017. He also owns a concrete furniture company called Gallery Mystique.
Need some flooring-related guidance?
Get A Free Quote or price estimate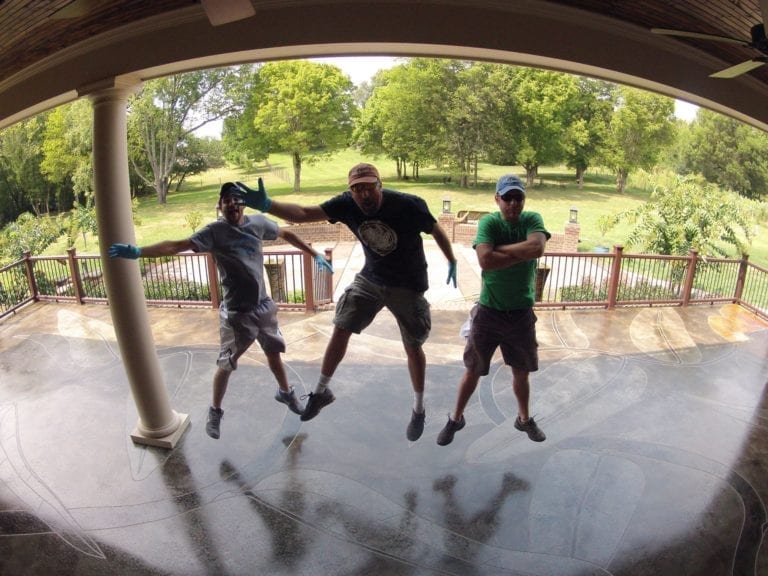 Our company is experienced in creating custom concrete designs
Over the last 14 years he has watched this industry change and grow at an amazing rate. In his opinion, the one element that the industry is missing is more true artists. He has used his degree very successfully in a non-traditional setting and feels that it can, and will be implemented as a norm in decorative concrete in the coming years. Industry professionals are just beginning to realize how to integrate a fully educated artist. Currently decorative concrete controls most of his creativity and time. He is hoping to merge more of his artwork and his concrete work together. This will bring two completely different industries together and will allow him to introduce decorative concrete to the artworld and the artworld to decorative concrete.
Passionate About Decorative Concrete
Taking Each Day As A New Challenge To Create Something Beautiful.