Concrete Engraving Laurelbrooke, TN
- Serving Nashville TN and surrounding areas -
Concrete Engraving Contractors - Serving Laurelbrooke TN and Surrounding Areas
Are you looking for trusted and highly acclaimed concrete engraving contractors in Laurelbrooke, TN, and nearby areas? Well, look no further because Concrete Mystique Engraving is here to fulfill your needs. We are an award-winning decorative concrete contractor that offers only the best custom engraving services for residential homes in Laurelbrooke.
If you think your concrete floor looks lifeless and lacks character, our renowned concrete team will transform your floor using the engraved patterns, colors, and designs that best suits your needs and personality.
Custom Concrete Floor Engraving
You may not have thought of decorative concrete engraving before, but it's the key to creating simple yet spectacular concrete flooring for your treasured home in Laurelbrooke, TN. We at Concrete Mystique Engraving provide the best possible concrete engraving by meticulously applying designs and patterns to your current concrete surface. We make this possible by using state-of-the-art concrete engraving equipment to cut different textures and patterns into the concrete.
With careful engraving performed by our team of experts, you can ensure that it will not wear off, unlike overlays. To accommodate your varying needs and tastes, we offer diverse styles and colors that will make your engraved backyard patio or indoor space look elegant and refreshing. No matter what type of flooring material you have, we at Concrete Mystique Engraving can perform custom decorative engraving and replicate different materials:
Pavers

Cobblestone

Brick

Tile

Logos

Custom Art

Medallions

Compass

Anything under the sun that your imagination can reach!
Concrete Engraving for Your Home
Concrete engraving is undeniably one of the fastest-growing processes. More residential owners are starting to appreciate its aesthetic value given how flexible, simple, interesting, and endless the concrete engraving designs, colors, and patterns are.
With a proven track record of delivering high-quality concrete engraving, Concrete Mystique Engraving is one of the best in the business. Our skilled concrete artisans make sure to use special concrete engraving tools with precision and care to deliver outstanding results to any outdoor living space of your home.
To help you weigh your options and explore patterns perfect for your upcoming concrete flooring project, book a free consultation with any of our friendly and accommodating concrete experts!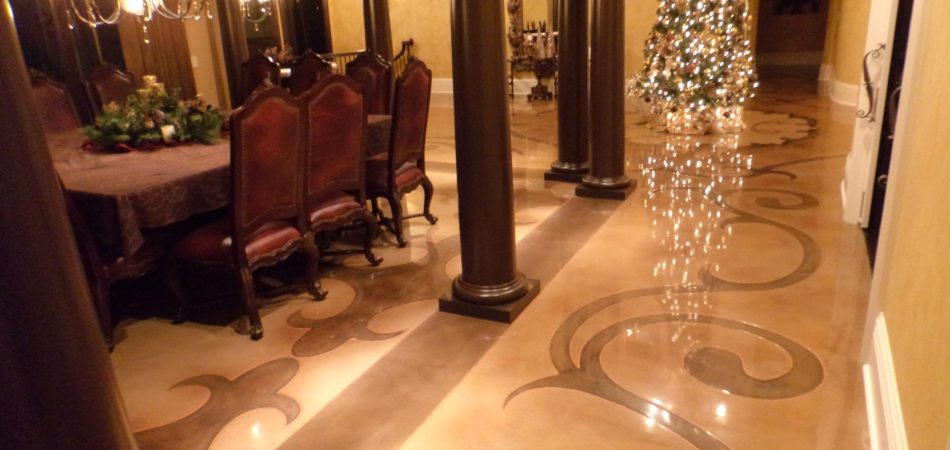 You may be planning to have an engraved concrete patio, parking space, or walkway for your space in Laurelbrooke, TN. But we're sure you still have some questions about concrete floor engraving. That is why we've prepared the following FAQs with their respective answers. 
Engraving offers flexibility, so customization is easy. This means that you can choose from infinite concrete engraving designs and patterns. Many residential owners, however, prefer simple engraving to achieve geometric shapes that resemble natural stone or tiles. Explore your options with a trusted concrete engraving company like Concrete Mystique Engraving.
Yes. With concrete engraving, modern tools are used to form different designs and patterns in your current concrete. Instead of applying these patterns on top of the concrete, credible concrete engraving contractors carve them into the concrete itself. Old concrete requires thorough cleaning before the engraving process.
We have done awesome work for our clients. See what they have to say about our services.
Rick and his team custom-designed our entire home entrance. From the front porch, stairs to the driveway, we got it all redone without tearing it all out. We were considering stamped concrete patterns, but we got something a lot better looking with Rick's advice. Every visitor likes to stop and appreciate the beautiful work done by these guys. High-quality craftsmanship and a great experience. 10-stars
We found Concrete Mystique when looking for a concrete patio contractor near us and when we looked at their patio pictures on their website, we were sold. I could never have imagined getting a fully customed patio the way Concrete Mystique did it for us. They are absolutely worth every penny. Everyone who comes to our home always compliments us on our unique concrete patio.
Why Nashville Home Owners Choose Concrete Engraving?

Custom engraved designs that enhance your space.

Superior experience, knowledge & creativity is what sets us apart.

Affordable alternatives to other flooring and material options.
Call Us Today
For all of your concrete engraving needs, be sure to call the best in the business! Book a consultation with us to get the patio, driveway, or walkway of your dreams.