Concrete Driveways Antioch TN
- Serving Nashville TN and surrounding areas -
Antioch, TN Decorative Concrete Driveways by Concrete Mystique Engraving
Concrete driveways are essential to homes in Antioch, Tennessee. With many companies offering Antioch concrete driveways it might be tough to choose which one you want for your driveway.
Want to take your concrete driveways to the next level? Our team of world-class floor artisans are ready to design a custom, one-of-a-kind aesthetic that will leave an impression on all passersby.
Being a locally trusted concrete driveway contractor, Concrete Mystique Engraving can add the perfect decorative touches to your concrete driveway! Give us a call for a quote if you live near Antioch or Nashville, TN.
Turn Your Plain Concrete Driveway Into a Grand Entrance
Concrete earns its reputation as being among the toughest materials for homes or driveways. Unfortunately, it can be plain and boring. On your driveway, an ordinary concrete floor may lack the wow factor you may want for your home's facade.

Your driveway is a defining aspect of your home's overall look. It provides the first impression to visitors and can give them insight into what they might find inside. Let our expert concrete contractors transform your dull surface into a reflective, eye-catching masterpiece.
Custom Concrete Driveway Designs
Customize Your Concrete Driveway​
Our team of concrete contractors will work with you as we create your decorative driveway or driveway restoration. We can take your input about design style and aesthetics, and we will handle the rest! Rest assured, what you imagine for your driveway, we can most certainly achieve.

Together we can plan the perfect polished concrete driveway or stamped concrete driveway!
Concrete Driveway Engraving and Staining​
One of the most effective and cost efficient ways to renovate a concrete driveway is by engraving and staining it. We create eye-catching outlines or shapes through careful and detailed engraving.
We follow this by staining your decorative concrete driveway. Concrete driveway engraving and staining is ideal for custom designs. You can even add things like your monogram, or create cool custom designs to make your driveway stand out.
Concrete Driveway Resurfacing
We resurface concrete driveway surfaces to add more sheen and luster to your already existing concrete driveway. Concrete driveway resurfacing is an absolute must if you have had your concrete driveway for years.
Resurfacing is one of our specialty concrete driveway restoration services. With it, your concrete driveway will look as good as new. It will look great after this step. However, if you want to replace or expand your current driveway, we also offer stamped driveway services!
Stamped Concrete Driveway
For additional touches and accents, we provide stamped concrete services for your driveway. A stamped driveway adds a personal touch and can mimic other more costly materials like stones or pavers.
Stamped concrete driveways are our specialty. We also offer it as one of our concrete driveway finishes. You can use this service after we finish any of the following:
Repairing concrete driveway surfaces
Sealing concrete driveway surfaces
Concrete driveway removal and replacement
Concrete driveway restoration
Crafting driveway overlay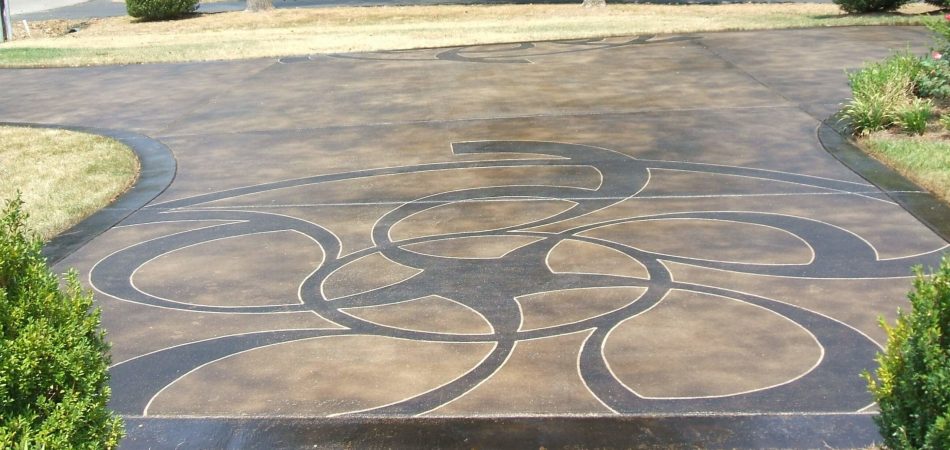 Decorative Concrete Driveways FAQs
Here are some of the most commonly asked questions about our driveway repair and driveway installation:
Yes!

Concrete driveways can guarantee longevity and durability. With our decorative concrete driveway finishes, a concrete driveway can also add curb appeal, driving up the property value of your home.
Hands down, concrete is one of the most durable and stable materials for any floor. Barring unlikely natural disasters, concrete driveways require little to no repair at all.
Concrete is one of the most durable surfaces in existence. When well installed and cared for, concrete driveways can last up to 50 years or more. The outstanding durability and stability of concrete make concrete driveways a popular choice among homeowners. A standard, undecorated driveway can last for many years, with wear and tear hardly ever setting in.
We have done awesome work for our clients. See what they have to say about our services.
Rick and his team custom-designed our entire home entrance. From the front porch, stairs to the driveway, we got it all redone without tearing it all out. We were considering stamped concrete patterns, but we got something a lot better looking with Rick's advice. Every visitor likes to stop and appreciate the beautiful work done by these guys. High-quality craftsmanship and a great experience. 10-stars
We found Concrete Mystique when looking for a concrete patio contractor near us and when we looked at their patio pictures on their website, we were sold. I could never have imagined getting a fully customed patio the way Concrete Mystique did it for us. They are absolutely worth every penny. Everyone who comes to our home always compliments us on our unique concrete patio.

We customize your driveway to your most ideal specifications!

Our concrete work is insured, bonded & guaranteed!

We get the job done right the first time, with no extra cost!
Need a Decorative Concrete Driveway in Antioch? Concrete Mystique Engraving Can Help You Out!
For all your concrete driveway needs, don't hesitate to call us. Our consultations and estimates are always free. Sure, a plain concrete driveway is great, but take yours to the next level by giving us a call and setting up your free estimate today. Call us now and get the prettiest decorative concrete driveway in your neighborhood.  
(615) 828-3806
.