Concrete Staining Antioch, TN
- Serving Nashville TN and surrounding areas -
Antioch, TN Concrete Staining Contractor
Get your concrete looking like a work of art with our concrete stain services in Antioch! With a wealth of experience and knowledge, our team at Concrete Mystique Engraving is the best choice for your concrete staining needs. No one can compare to our impressive history and high-level expertise.
Our company has been providing the best stained concrete floors, stained concrete patios, water-based and acid-stained concrete floors to residents of Antioch, Tennessee for more than 14 years.
Aside from the diversity of our concrete staining services and the experience we have in the industry, we also pride ourselves as a leading decorative concrete company that is truly passionate about designing concrete and will strive to make yours unique all within your set budget.
Concrete Floor Staining Services
Interior Concrete Floor Staining
A beautiful concrete floor is a perfect way to keep your home fresh and trendy. It also helps keep your home healthy. Aside from its artsy, natural look, it eliminates mildew growth and encourages better indoor air quality. If your indoor concrete floors look too dull, our interior concrete floor staining services can surely help. Using the most advanced interior concrete staining application and a vast array of color options, we can turn any of your concrete floors into a unique masterpiece. You can even pick different designs for your interior concrete floors from detailed logos to geometric patterns.
Outdoor Concrete Staining
New and innovative acid staining has revolutionized the way concrete is colored. Our expert staining contractors are now able to offer rich, earth-toned color schemes that resemble the look of natural stone, wood, or marble for outdoor areas at a fraction of the cost.
Aside from making your driveway look aesthetically pleasing, our concrete staining services can also turn your pool deck, patio, and other outdoor areas into a concrete art work. We will also ensure that none of your outdoor surfaces are damaged from the sun's harmful ultraviolet rays.
Residential Floor Staining
The appearance of your residential flooring can affect your mood when you're indoors. How can you possibly relax if your floors look unkempt? Do you think you'll have the confidence to invite friends and family over if your residential flooring is worn out?

If you want your residential floor to look and feel new, let our professional concrete contractors do the job. We can make your kitchens, bathrooms, and living rooms look more appealing and expensive. With our concrete staining services, your residential stained concrete floors will stay looking radiant, while maintaining the soft matte-sheen or high-end glossy finish that reflects beautifully and matches the rest of your design scheme. We also offer garage floor stain services, so your garage can be protected from wear and tear and accumulation of dust, dirt, and other debris.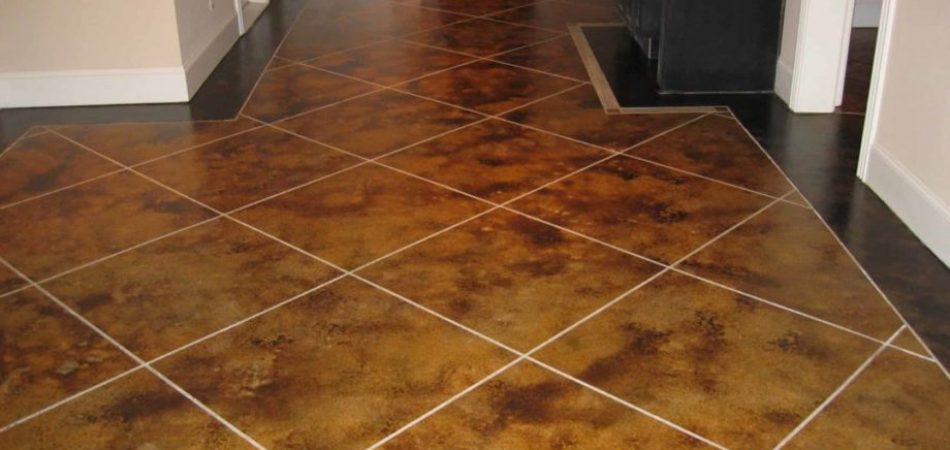 Concrete staining is a relatively new concept to some homeowners in Antioch, Tennessee, which is why residents have many questions about this staining process. If you're one of them, head to the FAQs below to learn more about concrete staining.
Concrete, regardless of how old it is, can still be stained. As long as the surface is free from any paint, grease, sealers, glue, waxes, or any other chemicals that can prevent the stain from soaking into the pores of the concrete, we can still stain old concrete.
Concrete staining is a great way to make your property stand out, as you can choose from several stain colors. Some of the most common concrete stain colors today are brown, blue, gray, green, tan, and terra cotta.
With stained concrete, the concrete itself has a great potential to last for over 100 years. But if you want the stain to last long, you need to regularly seal and wax the floor approximately once or twice annually.
We have done awesome work for our clients. See what they have to say about our services.
Rick and his team custom-designed our entire home entrance. From the front porch, stairs to the driveway, we got it all redone without tearing it all out. We were considering stamped concrete patterns, but we got something a lot better looking with Rick's advice. Every visitor likes to stop and appreciate the beautiful work done by these guys. High-quality craftsmanship and a great experience. 10-stars
We found Concrete Mystique when looking for a concrete patio contractor near us and when we looked at their patio pictures on their website, we were sold. I could never have imagined getting a fully customed patio the way Concrete Mystique did it for us. They are absolutely worth every penny. Everyone who comes to our home always compliments us on our unique concrete patio.

Concrete Mystique offers 100% custom concrete staining for your property.

Stained Concrete flooring requires minimal maintenance and is very easy to clean.

Stained Concrete flooring is an economical and cost-effective flooring option.
Call Us Today
Getting concrete staining services is a great investment that can improve the appearance of any concrete surface located inside or outside of your home. If you're interested to learn more about the team behind Concrete Mystique and our concrete staining services, call us at
(615) 828-3806
 to schedule a free consultation!