Concrete Patios Mount Juliet, TN
- Serving Nashville and surrounding areas -
Mount Juliet, TN Concrete Patios by Concrete Mystique
Concrete Mystique is an award-winning and world-class decorative concrete contractor offering concrete patio services in Mount Juliet, TN. We offer a wide range of solutions for building, upgrading, and repairing concrete patios in Mount Juliet.
Turn Your Plain, Old, or Cracked Concrete Patio Into A Beautiful Living Space
Get the patio of your dreams with decorative concrete. We specialize in the following:
Stained concrete patios

Polished concrete patios

Stamped concrete patios

Concrete patio resurfacing
We can help you find the type, design, pattern, and color of concrete that can best accentuate your home's architectural style and fit your aesthetic and lifestyle needs.
Concrete Patio Art Designs
Our team of experienced and trained concrete patio contractors understands what it takes to create concrete patio designs that bring a new level of artistry and creativity into your home. 
We offer a range of designs, patterns, finishes, and styles to bring your vision into reality. We also offer customized design, installation, and sealing concrete patio services to turn any dull or boring concrete surface into a stylish and functional one.
A stained concrete patio is one of the top options for many homeowners today because of its beautiful appearance, durability and resilience, low-maintenance requirements, and allergen-free and environmentally friendly features. 
Concrete Mystique can install stained concrete on your patio. We can apply a variety of colors and concrete finishes for patios to get you that luxurious or rustic look you're going for.
One of the best ways to get a charming concrete patio makeover is to use concrete overlays. Overlays can improve the strength and durability of an existing concrete surface, while also improving its color, pattern, and texture.
If you only need some minor patio concrete repair work or concrete patio resurfacing, overlays offer a quick and easy fix that won't break the bank. They're a great way to resurface and refresh worn-out and damaged patio floors.
Stamped, imprinted concrete, or textured concrete is designed to resemble other types of materials such as brick, slate, tile, stone, and even wood. They're the perfect choice for patios because they meet a wide range of design requirements while still offering superior weather resistance and durability.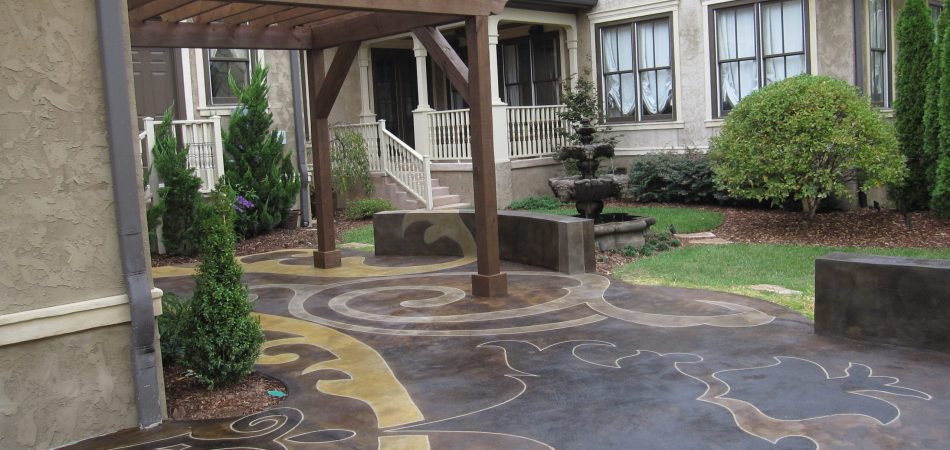 Decorative Concrete Patios FAQ
Concrete patios can be engraved and textured to create unique designs and patterns. You can do concrete engraving to make your patio floors look like cobblestone, decorative tiles, brick, or natural stones.
Antioch decorative concrete patios by Concrete Mystique are versatile, cost-effective, durable, resilient, and visually appealing. Our expert concrete patio installation team offers different customizing options to match your home's exteriors and other design needs
The concrete slab for patios should be, at most, four inches thick. If the structure is going to support another structure such as a hot tub or a gazebo, the thickness can be increased up to eight inches.
We have done awesome work for our clients. See what they have to say about our services.
Rick and his team custom-designed our entire home entrance. From the front porch, stairs to the driveway, we got it all redone without tearing it all out. We were considering stamped concrete patterns, but we got something a lot better looking with Rick's advice. Every visitor likes to stop and appreciate the beautiful work done by these guys. High-quality craftsmanship and a great experience. 10-stars
We found Concrete Mystique when looking for a concrete patio contractor near us and when we looked at their patio pictures on their website, we were sold. I could never have imagined getting a fully customed patio the way Concrete Mystique did it for us. They are absolutely worth every penny. Everyone who comes to our home always compliments us on our unique concrete patio.
Our Concrete Patio Promise

We customize your driveway to your most ideal specifications!

Our concrete work is insured, bonded & guaranteed!

We get the job done right the first time, with no extra cost!
Call Us Today For A Free Estimate
Whether you're looking for a complete patio makeover, or you just want a simple concrete overlay, Concrete Mystique has the team to accomplish any of your patio dreams. Give us a call today at
(615) 828-3806
 to get a free estimate.