Concrete Repair Services Belle Meade
- Serving Nashville and surrounding areas -
Belle Meade, TN Concrete Repair Services by Concrete Mystique Engraving
Ready to have beautiful concrete floors? Trust Concrete Mystique Engraving to bring back the original luster of your old and outdated concrete floors. We handle everything from decorative concrete to repairs meant for longevity. Throughout the years, we've served thousands of residential homes in Belle Meade, TN, making us one of the most experienced companies in our industry.
A cornerstone of our business is developing the best repair techniques for your concrete floors. Having a team of experienced contractors allows us to always be one step ahead with our floor maintenance services so that you can focus more on what matters most: your business. We are experts at finding solutions to different types of problems, from concrete cracks to spalling concrete.
What Concrete Surfaces We Repair
We specialize in concrete crack repairs for residential homes in Belle Meade, TN. Rest assured our experience and resources can repair most damaged concrete flooring. We can create beautiful concrete finishes to elevate your concrete repairs to the next level.
We firmly believe that a proactive approach to preventative concrete floor maintenance can improve long-term performance. Our experience in residential concrete repairs has enabled us to develop standard repair systems for a vast number of concrete defects.
Concrete Repair Jobs We Have Done
Cracking and discoloration may appear on your concrete driveway over time. Severe weather and improper placement can wreak havoc on it. Replacing your entire concrete slab is typically a costly endeavor. Let us examine your current concrete flooring and provide you with expert advice for any repair work that may be needed to keep your concrete floors looking their best. We offer concrete repair services at an affordable price for all customers, guaranteeing you won't have costly repairs.
No one likes to walk out of their home and see a cracked walkway or driveway, sunken, or uneven.

A bad concrete surface can become a hazard, endangering you and your loved ones. Surfaces are susceptible to failures, and cracks can stem from a variety of issues. Protect your family by having a stabilized and leveled concrete surface permanently. As a company that specializes in repairing concrete cracks, we will investigate and assess the damage and recommend the best option for your compromised concrete floors.
Concrete Pool Deck Repair
A damaged pool deck is unsightly and dangerous. Instead of replacing the entire concrete deck around your pool, which is ultimately a time-consuming, costly, and stressful process, our experienced concrete pool deck contractors fix all kinds of pool deck problems, stabilizing the soil beneath the concrete and protecting it from water damage. With the right repair and high-quality materials, your concrete pool deck can be restored to its former state permanently—all without affecting your entire swimming pool.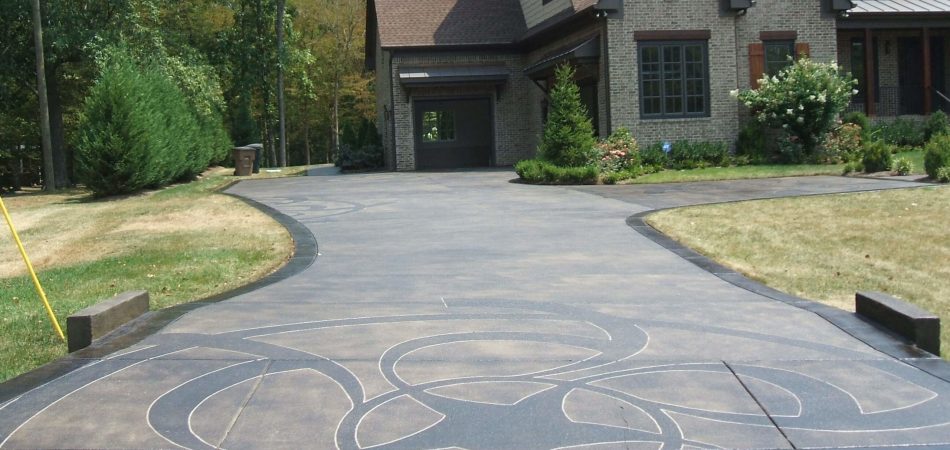 We have done awesome work for our clients. See what they have to say about our services.
Rick and his team custom-designed our entire home entrance. From the front porch, stairs to the driveway, we got it all redone without tearing it all out. We were considering stamped concrete patterns, but we got something a lot better looking with Rick's advice. Every visitor likes to stop and appreciate the beautiful work done by these guys. High-quality craftsmanship and a great experience. 10-stars
We found Concrete Mystique when looking for a concrete patio contractor near us and when we looked at their patio pictures on their website, we were sold. I could never have imagined getting a fully customed patio the way Concrete Mystique did it for us. They are absolutely worth every penny. Everyone who comes to our home always compliments us on our unique concrete patio.
Our Concrete Repair Promise To You

We don't just do a patch job. We customize every concrete repair job to your desires. 

All concrete repair jobs are done to last by experienced professionals.

We handle all the headaches, you enjoy your new concrete surfaces without breaking the bank!
Concrete Mystique Engraving: Your Concrete Resurfacing Specialists in Belle Meade, TN
Ready to resurrect your driveway or pool deck with a quality concrete repair service? Concrete Mystique comes highly recommended for concrete repair in Belle Meade, TN. Give us a call today at
(615) 828-3806
to get a free estimate.