Concrete Overlays & Resurfacing Belle Meade, TN
- Serving Nashville and surrounding areas -
Belle Meade Concrete Resurfacing Contractors
Are you tired of your old, boring, flaky, dilapidated driveway or sidewalk? Are you thinking of replacing it or renovating it? Your driveway, floor, sidewalk, or patio may need concrete resurfacing. 
For reliable concrete flooring resurface in Belle Meade you can trust, we are here to help you! We are concrete resurfacing contractors who offer top-quality and affordable flooring solutions in Belle Meade, TN. We have a vast array of decorative concrete options for any existing concrete in your home, driveway, or garage, including: 
Garage floor resurfacing

Epoxy driveway resurfacing

Sidewalk resurfacing

Epoxy patio resurfacing

Aggregate driveway resurfacing

Concrete pool resurfacing

Concrete overlay
Concrete Overlay & Resurfacing Designs
Don't Replace Your Old Concrete. Resurface It!
You don't have to tear down your old concrete floors. Concrete resurfacing gives your old home concrete flooring a much-needed facelift without calling in a demolition team!
For parts of your home that you and guests frequent, concrete resurfacing can be an economical and efficient option for any indoor or outdoor space. For this reason, it is a popular choice for: 
Living rooms

Rec rooms

Sidewalks

Concrete Walkways
As your trusted concrete resurfacing experts, we can upscale the look of your home's concrete surfaces. Concrete resurfacing is the perfect way to bring life back into your concrete patio surfaces, walkways, concrete driveway surfaces, and even the most trafficked area in your home. We can transform old, dull concrete patios and driveways with a beautiful finish that will last for years. We also do pool resurfacing services. Call us now for a concrete floor revamp!
Concrete Resurfacing Ideas
With concrete resurfacing, you can add a personalized touch that gives your floors a unique makeover. With concrete overlays, our expert concrete resurfacing contractors can give your floors with: 
Eye-catching aesthetic appeal

Superior surface textures

Impeccable skid resistance

An evened-out concrete surface free from dents or cracks
To take your concrete up a notch, you can also get decorative concrete resurfacing services. Being the best concrete resurfacer in Laurelbrooke, TN, we specialize in decorative concrete. Our decorative concrete floors offer the best in: 
Aesthetics

Function

Longevity 
Whichever option you go with, you can bet on us to provide the best concrete resurfacing!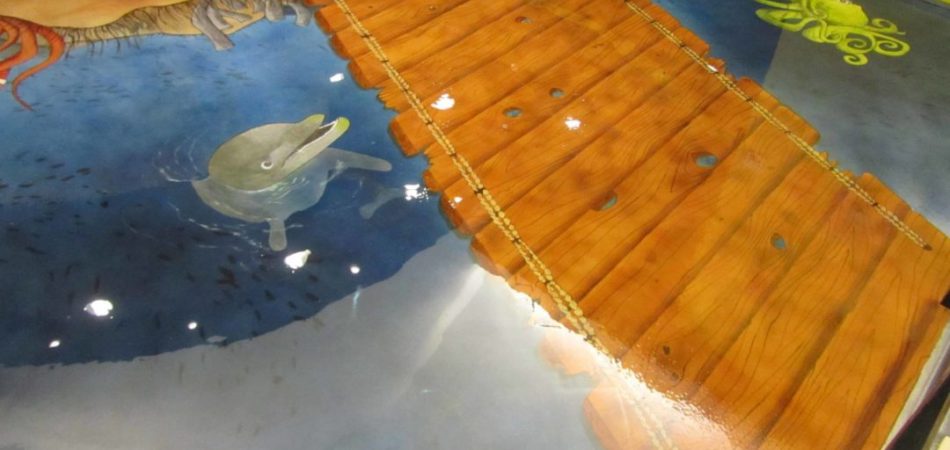 Concrete Resurfacing & Overlays FAQs
Here are some of the most frequently posed questions about our concrete resurfacing and overlay services. We also provide our expert answers.
Absolutely! Our concrete resurfacing and overlays can add 10 to 20 years to your concrete's lifespan! If you want to learn more or need proof, give us a call now!
You bet! This is exactly why we have concrete resurfacing. Concrete resurfacing is a way to preserve and add years to your concrete floor. It can also fix minor dents and cracks after refinishing.
The quick answer to this is that it depends. After all, factors like the extent of damage to your concrete floor can determine the thickness of the concrete overlay. 
Be that as it may, we generally pour about 25 to 55 mm of the overlay on your concrete. Even the middle value is sufficient to provide your concrete with durability and beauty. 
Call us now for a free consultation if you want concrete overlays on your interior or exterior floors!
We have done awesome work for our clients. See what they have to say about our services.
Rick and his team custom-designed our entire home entrance. From the front porch, stairs to the driveway, we got it all redone without tearing it all out. We were considering stamped concrete patterns, but we got something a lot better looking with Rick's advice. Every visitor likes to stop and appreciate the beautiful work done by these guys. High-quality craftsmanship and a great experience. 10-stars
We found Concrete Mystique when looking for a concrete patio contractor near us and when we looked at their patio pictures on their website, we were sold. I could never have imagined getting a fully customed patio the way Concrete Mystique did it for us. They are absolutely worth every penny. Everyone who comes to our home always compliments us on our unique concrete patio.

DreamCrete offers 100% custom made concrete overlays and resurfacing for your property.

Our concrete artisans will ensure your dreams become a reality with our overlay & resurfacing installs.

With concrete overlays & resurfacing you don't need to tear out the concrete. Just resurface it!
Concrete Mystique Engraving: Your Concrete Resurfacing Specialists in Belle Meade, TN
Need to give your concrete a facelift? Look no further than our team of experts! Call us now on 
(615) 828-3806
if you need more character from your old concrete floors. For all your flooring needs, choose Concrete Mystique Engraving, your concrete flooring specialist in Belle Meade, TN!