Driveways are often made from concrete, but this doesn't mean that yours should look similar to your local parks or city streets. How can your property stand out if your driveway's concrete looks too bland? Would you have the guts to invite friends over if this is the case?
Keep in mind that the appearance of your driveway creates an impression, which is why you should exhaust resources to ensure that it looks good and remains functional at the same time. 
Concrete driveway resurfacing from professionals, such as Concrete Mystique, is a great way to make the most out of your driveway. We are a decorative concrete company and have been providing concrete driveway restoration and resurfacing services to the locals of Nashville for years. 
Here are five reasons why you should invest in doing the same:
Concrete Resurfacing Is a Low-Cost Way To Improve the Appearance of Your Driveway
Concrete resurfacing will not cause any financial burden because it's inexpensive yet provides countless benefits, which is why it's a cost-effective investment. According to HomeAdvisor, basic concrete resurfacing for a 12'x24′ driveway will cost around $850-$1,500 and around $1,200 to $2,000 for a 20'x20′ driveway. (Please note that concrete resurfacing price greatly differs based on designs, materials, and colors used)
All of the money you pay for our concrete resurfacing services will be worth it as we can transform your driveway and make it look new. Our services can even help your driveway become the focal point of your exteriors! 
You Can Choose From an Array of Colors, Textures, and Patterns for the Surface
If you're looking for ways to make your driveway stand out, our concrete driveway resurfacing services are one of the best answers. Once you avail of our service, you can choose from a wide variety of colors, textures, and patterns for your driveway. 
Do you want to modify your driveway into a marbled surface, or do you want it coated in a color that contrasts with your home exteriors? Do you want your driveway to resemble the appearance of colored tiles or authentic brick and wood? Regardless of the design you want for your driveway, we can make that happen!
With the number of design options to choose from, you'll surely end up having a unique driveway when you partner with us!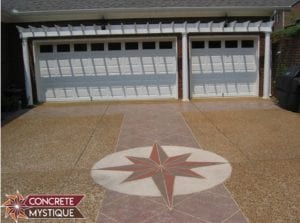 The Process Doesn't Take Long, Usually Only a Day or Two
You don't have to make drastic changes to your weekly routine when you decide on our concrete driveway restoration and resurfacing services. We'll only need a day or two to transform your driveway, and you can resume your activities as soon as we're finished! 
Concrete Resurfacing Is Ideal for Repairing Cracks, Holes, and Other Damages That May Exist in Your Current Driveway
Your driveway will eventually deteriorate. Because this is one of the busiest areas of your property, expect that your driveway will develop cracks and holes. While these changes are typical in every driveway, too many of these can adversely affect the appearance of your exteriors. 
You don't have to worry about any of these problems because our concrete driveway restoration and resurfacing services can repair different types of damage. We'll keep our word to transform your driveway into a brand new space – one that's free from any cracks, holes, and other types of damage. 
You'll be surprised how your driveway looks after we're finished working on it! 
Concrete Resurfacing Has a Lifespan of 20 Years or More
Your driveway is exposed to harsh weather conditions, which is why it's crucial to invest in its lifespan. Paying for a project that will only benefit your driveway for a few months or years isn't the best investment for homeowners. 
Our concrete driveway restoration and resurfacing services can last for 20 years, giving you the best bang for your buck. Our team only uses high-quality products and state-of-the-art equipment to ensure that your driveways will remain appealing and functional for decades! 
Interested? Curious? Contact Us Today!
With years of experience in transforming countless driveways in Nashville, we're confident that we can make any of your designs come to life. Just let us know how you want your concrete driveway to look, and we'll be there to turn that vision into a reality. 
If you're interested or curious about our concrete driveway restoration and resurfacing services, contact us today at (615) 828 – 3806 or email us through rick@concretemystique.com. Our team is on standby from Monday to Saturday, ready to answer all of your queries and provide a free price estimate!