Looking to learn how to maintain your concrete flooring? Follow the tips below!
1. Clean Concrete Floors at Least Once a Week
How do you clean polished concrete floors? Cleaning stained concrete is easier than other types of flooring. It doesn't have grout lines or fibers that accumulate dirt. Here are the basic steps to clean polished concrete:
Sweep the dirt and dust up using a broom or dust mop. You can also use a vacuum. 

Dry mop the floor using a pH-neutral cleaner mixed with water. 

Let it dry before stepping on it again.
The same procedure applies to commercial stained concrete floors. A well cleaned and maintained surfaces are crucial for preventing dust or dirt from sticking too long on the floor, making it hard to remove. 
2. Keep the Area Around Your House or Business Establishment Clean 
This is especially true if your home or workplace has trees and bushes surrounding it. Leaves and other plant debris can stain your concrete if you leave them laying on your floor. When they start to decay, they release a natural dye that responds with the alkaline presence in concrete. This creates a discoloration on your porous surface. 
Sweeping away fallen leaves and other plant debris from your floor or using a leaf blower should become a routine. You might need to do this every day so that leaves don't stay too long on your concrete and create stains.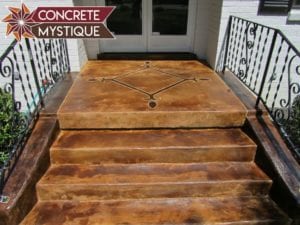 3. Avoid Spilling Oil or Grease on Your Floor
Oil and grease can cause stubborn stains on your concrete floor. This is why it's essential to avoid any spills as much as possible, so your concrete stays in a good condition. Even a small spill can be difficult to remove when left untreated. 
For liquids, it's best to store them in containers with an airtight lid in case accidents happen. Keep them in plastic containers as much as possible as glass will easily break when you drop it, which gets messy on the floor.
4. Apply a Sealant Every Year to Maintain Color and Keep Mold Away
Applying a sealant to your floor significantly makes maintenance less expensive and easier. It eliminates the concrete's porous quality and protects your floor from mold, damage, or heavy foot traffic with a protective coating. It also extends the lifespan of stained concrete. 
Here are the steps to apply a sealant: 
You need to know which type to apply. If you want a clear and thin film, acrylic ones are best, but to enhance color, epoxy sealers are great. 

Read the label and follow the instructions when preparing the product.

Use a paint roller to apply the sealer. Apply the first coating and let it dry before applying the second coating.
5. Clean Up Any Spills as Soon as Possible 
In case of accidents and your floor has oil, grease, food, or any other spills, clean them immediately. Concrete cleaning helps you avoid stains sticking to your concrete. Follow these steps to remove spills and clean polished surfaces: 
Use a rag to wipe and remove the oil. 

Rub the area with a paste from a mild laundry detergent and clean water. 

Wash it with water. 

Allow it to dry.
The Concrete Experts
Maintaining your decorative concrete floors requires patience and a good sense of responsibility. However, if you want to level up your floor's look by customizing it, Concrete Mystique Engraving can help! We serve residents and commercial establishments in Nashville, TN, and the neighboring areas. Request a free consultation now!