Ever wondered why so many Nashville homeowners are choosing concrete staining for their floors instead of wood or tiles? In this blog post, we'll be discussing why stained concrete floors are a trend in Nashville TN.
Concrete Is Durable and Weather-Resistant
Concrete itself is durable. The concrete road just outside your house has most likely lasted decades. Despite being exposed to different weather conditions, the road remains strong enough to withstand high-traffic situations. Imagine how long a concrete floor can last.
Concrete is an ideal material for your residential or commercial property's flooring. They are highly resistant to dents, scratches, and most weather conditions. Concrete is a cut above the rest, especially when compared to wood flooring. Hardwood floors are prone to warping and pests, which makes them less durable.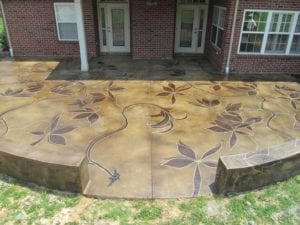 Concrete Staining Makes Surfaces Appear Like Natural Stone
Many people tend to prefer natural stone flooring. Standard natural stone designs include granite, slate, marble, and limestone. These rocks have natural patterns that enhance any building's aesthetic appeal. Raw stone materials can be expensive if you intend to use them purely for their beauty factor.
Stains can change the look of stone flooring. They are cheaper and more accessible for people who have a home or who own a small business. We will assess your property's floor size and flooring requirements. Call us to determine the best deal for your stained concrete floor.
Concrete Staining Can Upgrade Existing Concrete Surfaces
Concrete staining can be your next step to improving your durable floors. Our concrete staining services include applying unique, natural stone stain colors and designs.
With your existing concrete surface in your home or business, our job is already half done. You are closer to getting your ideal, natural stone-patterned floor. We will determine if your existing concrete floor may need some finetuning. After that, we will seal your concrete floors with our signature stains.
Concrete Surface Maintenance Is Easy
Since concrete itself is durable, this natural quality makes any concrete surface more manageable. Rarely will you find cracks and crevices in the concrete floor. These seemingly harmless problems expand in different floor types, turning into irreparable damage.
Concrete floors are durable. You can save time cleaning them because they do not stain or wear away quickly. You can keep your floors looking fresh by sweeping and mopping. For extra measure, you can wax your concrete surface once every six months. Concrete is different from other flooring materials. It saves you the trouble of maintaining a surface. Our concrete staining process will be completely dry in just one day!
Concrete Staining Is a Protective Measure
Beauty is nothing without function. Concrete staining adds an extra layer of defense to your concrete surface. This layer will serve as a protection against moisture damage from rain or snow. Our acid stain and water-based sealants ensure they remain as durable as they are beautiful.
Epoxy-based floor coatings do not provide the same level of protection that our unique formula gives. Our team of concrete contractors ensures that your concrete surface maintains its beauty amid the different weather conditions in Nashville, TN. We developed a signature concrete staining formula and technique. The technique works on any residential and commercial surface in the area.
Concrete Staining Is Popular in Nashville, TN!
Many homeowners and business owners are turning to Concrete Mystique Engraving for the best in style stained concrete results. These services can enhance their property's concrete surfaces.
Look up "concrete staining in Nashville, TN," and you will find at least fifteen companies offering such services. You need only the best in the business to ensure you get your money's worth.
Learn more about how we can beautify and protect your floors with acid-based stains and water-based stains. Contact us for free estimates!